MyStrings is a new Cydia tweak aimed to change system default strings on your iPhone and iPod Touch. It can change various lines of text through the GUI and iOS.This requires that the user jailbreak their iDevice to acces it.
MyStrings adds a new section into the settings.app, where you're able to customize a variety of strings. For instance: Side To Unlock. After you download the application you will be amazed by the many possibilities of the text that can be tweaked. It has also the capability to customize application text, such as Facebook or Twitter, warnings, pop ups, lock screen text and many more. The user has a great control over the lines and text in the GUI of iOS . He or she can specify a fake time stamp on the phone or customize carrier label.
Beside all these features the user also has the opportunity to customize the iPhone, iPad or iPad Touch by using all types of goodies from a category called "Extras". From this area the user can change the color of the icons, the wifi, time or change to numerical the battery signal.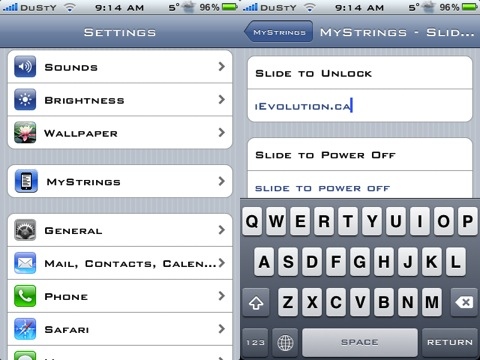 A main issue is with iOS 5. Some of the features won't work due to compatibility. For example, you can not change the status bar time color. Another issue, if can be called an issue, is that it may appear annoying the require to respring after each edit in the settings of MyStrings. But this should not be a problem if you make all the changes in one go rather changing one of a time.
Regarded as a whole, MyStrings is a very solid tweak that allows you to customize the interface of the iPhone. It has many options, very easy to use, and the amount of strings that you're able to customize is huge. Any serious jailbreaker will want to add this awesome tool to their arsenal of great jailbroken apps.
MyStrings is far more customize then MIM (MakeItMine), easy to use and allows changing on the go. Chenges don't appear until you respring your iPhone or iPod Touch